How Much Tissue Can Be Removed in a Breast Reduction?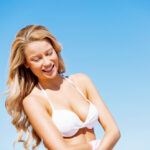 While many women want larger breasts, others seek to reduce the size of their breasts due to related cosmetic concerns or physical discomfort. The breast reduction procedure can provide many benefits for women with breasts that are proportionally larger than the rest of their body. In some cases, our Richmond breast reduction surgeon, Dr. Neil J. Zemmel, may recommend a very minor reduction, since the addition of reshaping and lifting the breast tissue will typically also provide a smaller breast appearance. For other patients, a more significant tissue removal may be necessary to provide the desired outcome.
The amount of tissue that can be removed during a breast reduction will ultimately rely on how much is needed to achieve the following goals:
Decrease the overall mass and weight of the enlarged breasts
Alleviate neck, shoulder, and back pain
Create a better balance between the chest and hips
Achieve the patient's aesthetic goals
Satisfy an insurance company's criteria for medical necessity
Dr. Zemmel will go over your options in the consultation process after he has had the chance to listen to your concerns and perform a physical evaluation. Since every patient has their own reasons for wanting to undergo a reduction surgery, Dr. Zemmel will work closely with you to ensure the best possible surgical plan is designed for addressing your concerns and helping you see the improvement you desire.