Before Breast Reduction Surgery
Like any procedure, our board-certified plastic surgeon emphasizes patient education with breast reduction. During the consultation, Dr. Zemmel will determine if you are a good candidate for breast reduction or if an alternative option is more appropriate for your needs. If a reduction is considered the most beneficial method for obtaining your goals, your surgeon will move forward with discussing every aspect of the surgery to ensure you make an informed decision about your care. By knowing what to expect before and after your surgery, you can be more prepared and plan accordingly.
AWESOME WORK. LOVE DR ZEMMEL..WOULD RECOMMEND TO EVERYONE. STAFF WAS GREAT. NO QUESTION ABOUT IT. I WENT IN FOR A BREAST REDUCTION AND MY RESULTS ARE AMAZING, WILL GO BACK IF ANYTHING FURTHER I WANT TO DO. LOVE THEM!

Chimere Hendrickson

November 20, 2013

12345
What Is the Breast Reduction Consultation Process Like?
Your First Breast Reduction Consultation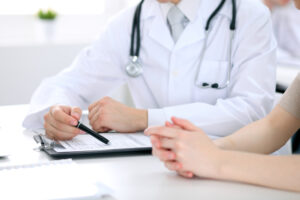 Your first visit with Dr. Neil Zemmel will take approximately 45-60 minutes and will include an interview and a physical exam. During the interview, your surgeon will discuss what bothers you about having large breasts, as well as what you hope to achieve through surgery. You should mention specific areas of pain, if you get rashes, and if bra straps tend to cut into your skin. You will also need to communicate any pain medication you have taken or physical therapy you have received to alleviate these issues. Your surgeon will then review your medical history to determine if you are a good candidate.
For the exam portion of the consultation, your surgeon will evaluate the following:
Height and width of the breasts
Width of the chest and ribcage
Current cup size and the quality and distribution of the breast tissue
Quality of your skin and presence of stretch marks
Diameter of the nipple and areola as well as their position on the breast
Potential cysts, lumps, or other masses
With this information, your surgeon can determine how much breast tissue will need to be removed.
If you have any medical problems caused by overly large breasts, our team will send a letter to your insurance carrier to preauthorize your procedure. Once authorized, your surgery can be scheduled. If you are undergoing breast reduction surgery for strictly cosmetic reasons, you will be given a full quote with a detailed list of all fees related to the procedure. Plastic surgery financing options are available to help make your procedure more affordable, should you be interested.
Your Final Breast Reduction Consultation
After your surgery has been scheduled, you will come in for a second consultation to go over the details of your procedure again. At this time, another exam will be performed, and you will discuss what you hope to achieve through surgery to ensure it is well-planned for your unique desires. This includes the type of incision technique, position of the areola, and your final cup size. Your surgeon will also educate you on the risks, benefits, alternatives, and recovery process.
Dr. Zemmel puts a high value on patient education; he is committed to helping you make informed decisions about every aspect of your treatment to ensure you obtain the results you desire.
To conclude this visit, you will be provided with a packet of information, including the prescriptions and instructions for pre- and post-operative care.
How Do I Prepare for Breast Reduction Surgery?
As your surgery date gets closer, you will need to begin preparing for your procedure and the recovery process. In general, you can expect to follow the timeline below, which will be explained in more detail by our team and in the instructions you will be provided:
About One Month Before Your Breast Reduction
Tests: You may be asked to undergo blood tests, a urinary pregnancy test, and other tests to confirm you are in good health for your surgery. If you are over the age of 55, this may include an ECG and mammogram.
Prescriptions: We highly recommend you fill any prescriptions prior to the day of surgery.
Smoking: If you regularly smoke, it is important that you quit at least 6 weeks before your surgery, as smoking can increase your risk of complications.
1-2 Weeks Before Your Breast Reduction
Arrange for help: You will need to get a ride home after your surgery, and you may also want to ask friends or family to help you as you begin your recovery.
Stop taking certain medications: You will get a list of medications, vitamins, and supplements to avoid two weeks before surgery, due to their ability to interfere with healing.
Prepare your home: It can help to stock up on food, put objects you will need within close reach, and ensure any other preparations are made for a comfortable recovery when you will not be able to move around as much.
Days Before Your Breast Reduction
Remove nail polish: Any colored nail polish or acrylic nails will need to be removed before surgery. This is because a device will be clipped onto one of your fingers to measure your oxygen, and nail polish and artificial nails can interfere with this.
Shower and wash your hair: These hygiene habits will more difficult at first during your recovery, so you will want to do them before your surgery. Make sure to avoid using any lotions or deodorants on your skin before your procedure.
Fasting: More specific instructions on when you should stop eating or drinking before your procedure will be explained to you beforehand. For morning surgeries, this typically involves stopping eating at midnight and avoiding water or clear liquids two hours before surgery.
Schedule Your Consultation
If you are ready to schedule your consultation, or have any questions about the time leading up to your surgery, please feel free to contact us, and one of our friendly staff members will be happy to assist you.