Which Breast Surgery is Right for You?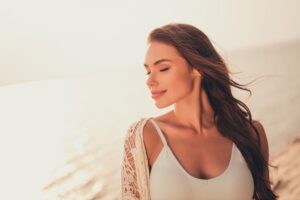 Throughout the various stages of life, you may be curious about making enhancements to your appearance. Many factors can influence this decision, such as age, genetics, and life events, especially when considering cosmetic changes to your breasts. 
There are several breast surgery procedures available, each unique to an individual's aesthetic or medical goals. To better understand which breast surgery is right for you, take a look at these possible options:
Breast Reduction – Do you suffer physical discomfort from excessively large breasts? This could be chronic pain in the neck, shoulders, and back or rashes underneath the breast. Whether a physical ailment, self-consciousness due to breasts being too large for your body frame, or just personal preference is causing you to consider a change, you may be a good candidate for breast reduction surgery to decrease the size of the breasts and improve balance and proportions. 
Breast Augmentation – Would you like to address concerns that affect the appearance of your breasts? Among those possibilities are increasing the size and volume of the breasts, correcting symmetry, and giving the breasts a fuller appearance. A breast augmentation procedure can help after unexpected changes have caused them to lose volume, or if you are simply dissatisfied with their current size and shape and would like to enhance their appearance. 
Breast Lift – Are you hoping to repair loose or excess skin and signs of sagging breasts? Breast lift surgery (mastopexy) is designed to tighten the skin of the breasts, reshape the breast tissue, and raise the position of the breasts, nipples, and areolas to a higher location. Pregnancy, breastfeeding, the natural aging process, and other factors can cause the breasts to sag (a condition medically referred to as "breast ptosis"). A breast lift can be very beneficial for restoring a more youthful and "perky" appearance to the breasts. 
Depending on overall cosmetic desires, patients often choose to combine breast surgeries to achieve optimal results. For example: some individuals are good candidates for a simultaneous breast lift and breast augmentation, which can improve signs of sagginess while enhancing breast size at the same time. To learn more about which breast surgery is right for you, contact our plastic surgeons at Richmond Aesthetic Surgery, Dr. Neil J. Zemmel and Dr. Karishma Reddy, for a comprehensive consultation and treatment plan.