What Causes Large Breasts?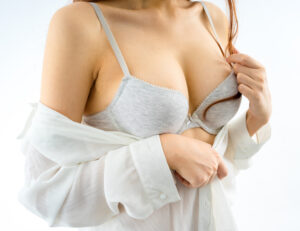 Breast size tends to have a strong influence over a person's self-esteem, whether positive or negative. Having overly large breasts, for example, can cause back and neck pain, make it difficult to find clothes that fit well, and draw unwanted attention from others. Those suffering from enlarged breasts often wonder what has caused their large breasts in the first place, and if they have any control over their size. Common reasons that an individual may have overdeveloped breasts include the following:
Genetics: Some men and women are predisposed to having a fuller breast size. This can be inherited from both the mother's and father's side of the family.
Hormonal Changes: Women develop their breasts during puberty as estrogen increases. Pregnancy and milk production can also cause the breasts to enlarge due to hormonal changes.
Drug Use: Certain drugs can lead to enlarged breast tissue in both men and women. Men, in particular, may develop gynecomastia due to marijuana and anabolic steroid use.
Weight Gain: The breasts are composed of both fatty and glandular tissues. When weight is gained or lost, the fatty tissue can also fluctuate as a result.
In most cases having a large breast size cannot be prevented or treated without surgery, due to factors like genetics or hormones. However, by maintaining a healthy lifestyle with diet and regular exercise, you can help reduce your risk of experiencing additional growth from weight gain in the future.
If you suffer from enlarged breasts and are seeking relief from the side effects you may be experiencing, contact Richmond Aesthetic Surgery to schedule a consultation with our plastic surgeon, Dr. Neil J. Zemmel. You may be a good candidate for breast reduction surgery, and our team can help you understand the best options for your condition.