Breast Reduction vs. Breast Lift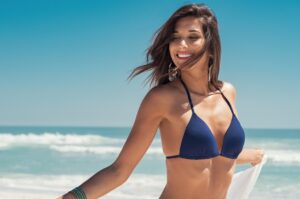 Breast reduction and breast lift procedures are both effective ways to improve the shape and position of breast tissue. However, each surgery addresses a different type of concern. The breast reduction procedure is ideal for those wanting to decrease breast volume and reduce the weight of overly large breasts. By removing excess tissue, patients can often relieve chronic discomfort, such as shoulder and back pain, as well as enhance their breast appearance. Breast lift surgery, on the other hand, is typically focused on cosmetic improvement, as it raises breast tissue to a higher position on the chest wall for a more youthful look.
When patients have excess breast tissue in addition to sagging, they may wonder which procedure is more appropriate for their needs: a breast reduction or a breast lift. This is when it is beneficial to meet with a plastic surgeon, who has the experience and qualifications to help you determine if you are a better candidate for breast reduction or breast lift surgery.
While many women can address their concerns with one of these procedures, some patients may achieve the best results with a combination procedure that removes redundant breast tissue while also lifting the remaining tissue. To learn whether you need a breast reduction and/or a breast lift, schedule your consultation with Dr. Neil J. Zemmel by contacting us today!