Do Large Breasts Lead to Chest Wrinkles?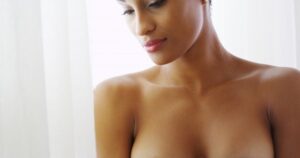 While it may seem like women with larger breasts are more prone to getting wrinkles on their chest, this sign of aging can happen to people of every bust size. Despite whether you have large or small breasts, wrinkles on the chest — also known as the décolletage — can be caused by a number of factors. This includes your genetics, if you have thin skin, if you tend to sleep on your side, and excess sun exposure. Some degree of chest wrinkling typically occurs as we age, and while this may not bother some people, others are looking for a way to reduce or prevent these creases.
The skin on the chest tends to be thinner and produce less natural oil, making it especially prone to signs of aging. The best way to avoid the appearance of chest wrinkles is to focus on prevention. When exfoliating and moisturizing your face, make sure to extend that extra care to your décolletage, as well. In addition, being diligent with sun protection can help you avoid the damaging effects of UV rays. For those who already have prominent chest wrinkles, there are a variety of professional aesthetic treatments that can help.
Non-surgical treatments like laser skin resurfacing and dermal filler injections can often help diminish chest wrinkles by smoothing the skin's texture. These solutions, along with a routine skin care regimen, are often the best way to minimize wrinkling. While surgeries like the breast reduction procedure or breast lift can improve overall breast shape and size, they typically do not address cleavage wrinkles.
If you're unhappy with overly large breasts or suffer from symptoms like back pain, rashes under the breasts, or shoulder grooves from bra straps, you may be a good candidate for breast reduction surgery. As part of your treatment plan, you may also opt for a non-surgical treatment to improve the look of your chest skin and minimize wrinkles after surgery.