Why Is Wearing the Right Bra Size So Important?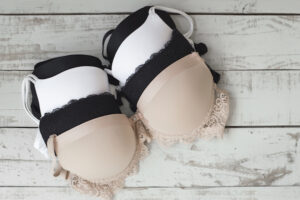 Finding a properly fitting bra can be difficult for many women, especially since there is no industry standard for cup size measurements. A 34C in one brand may feel completely different than a 34C in another brand. Due to this varying cup size system and not knowing how to find the right fit, it is estimated that 80% of women are wearing the wrong bra size. While this may just seem like a cosmetic issue, poorly fitted bras can actually lead to scarring and health concerns, such as skin irritation, shoulder pain, and chronic discomfort, especially for women with overly large breasts.
Most of the women wearing ill-fitting bras are recommended to increase their bra size, which is often very surprising. As a general rule, bra sizing experts recommend choosing a bra that has the following:
Underwire underneath/behind the breast, not digging into the breast or lifting off of it
Enough room in the cup, so breast tissue isn't spilling over the top or leaving extra space
A band that fits somewhat snuggly around the chest without riding up in the back
By choosing the correct fit of bra, you can not only enhance the contours of your upper body but also improve your posture and overall comfort. That said, some women with enlarged breast tissue may suffer from back and neck pain due to the weight of their large breasts, even with a proper-fitting bra. These individuals often prove to be good candidates for breast reduction surgery, should they want to get relief from their discomfort and/or achieve a more proportionate body shape.
If you have large breasts and would like to learn if breast reduction can help you, please contact our team at Richmond Aesthetic Surgery to schedule a consultation with our plastic surgeon, Dr. Neil Zemmel. He can help you determine if surgery is the right solution for your needs.